Welcome to Loon Song Gardens!
Our 2014 digging and shipping season is in full swing. All our daylilies are field-grown, and the cold spring meant our season started later than usual.
2014 Introductions
We are pleased to introduce four new daylilies this season. All have been cold-weather tested and have proved to be vigorous performers in our USDA hardiness zone 4: 'Bison Royalty', 'Cinnamon Crunch', 'Peach Flurry', and 'Solid Gold Spats'. Click on each photo for details.
All Introductions
Use the jump menu below to see a list of all of our introductions. Use the back button or click on the Home button to return to this page.
AHS Awards
We are thrilled to announce the following awards for our Loon Song introductions:
2012 AHS Honorable Mention: 'Ambrosia Rows', 'Love and Dazzle', and 'Minnesota Sunshine'
2013 Georgia Doubles Appreciation Award (for best double in an AHS National Convention garden): 'Ambrosia Rows'
2013 AHS Popularity Poll: 'Love and Dazzle' tied for first place
2013 AHS Junior Citation: 'Cinnamon Crunch' (Seedling #D3050)
Thank you to our daylily friends and customers for your wonderful support!
---
At Loon Song Gardens:
We specialize in northern-hardy daylilies (Hemerocallis).
Our daylilies are field grown.
We offer competitive prices.
Loon Song Gardens, LLC, is a licensed and inspected nursery.
We are an American Hemerocallis Society Display Garden.
Visitors are welcome by appointment.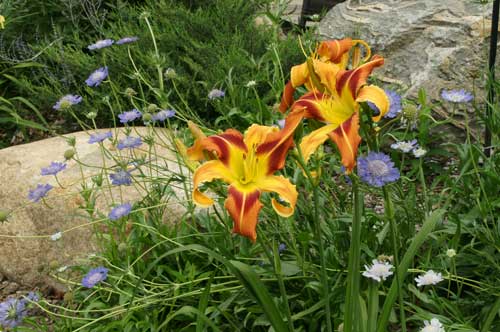 Above: 'Love and Dazzle', a Loon Song Gardens daylily introduction, winner of an AHS Honorable Mention (2012).
Loon Song Gardens is a specialty daylily nursery and the home of Mike and Kathy Lamb in Champlin, Minnesota, USDA hardiness zone 4. We grow over 1,000 named daylily cultivars in a wide range of colors, sizes, and forms, from classics to cutting edge.
If you are looking for northern-hardy daylilies, check with us! We will gladly share our growing experiences with you so you may have the best possible success.
We have a limited number of introductions available. For details, see Our Introductions.
Are you new to the world of daylilies?
Learn more about daylilies! Use the links in the left sidebar to find answers to your questions, or contact us and we will try to help.
To place your order
Use our on-line Price List to make your selections. We are a small nursery and quantities are limited, so it is best to confirm your order via email.
To place your order, print the Order Form (PDF) and complete it, then enclose payment by check or money order (payable to Loon Song Gardens, LLC), and mail to:
Loon Song Gardens

10910 109th Ave N

Champlin MN 55316
We ship at least a double-fan size plant unless otherwise noted in our listing;, we include a bonus of extra fans or a gift plant for orders of at least $35; and we guarantee that our plants are true to name.
Visit Loon Song Gardens
Loon Song Gardens is an official American Hemerocallis Society (AHS) Daylily Display Garden, open by appointment. If you are in the Minneapolis area and would like to stop by, please contact us to schedule a time. For details, click on Visit Us.