Welcome to Loon Song Gardens!
Loon Song Gardens is a specialty daylily nursery and the home of Mike and Kathy Lamb in Champlin, Minnesota, USDA hardiness zone 4. If you are looking for northern-hardy daylilies, check with us!
All of our daylilies are field-grown and tested in our climate before we offer them to you.We will gladly share our growing experiences with you so you may have the best possible success.
To learn more, see About Us.
Changes
We are paring down our collection in order to free up time for working with seedlings and new introductions. Watch for announcements of clump sales and other bargains!
If you are interested in daylilies you may have seen here in the past, please contact us regarding availability. We can work something out!
Digging and shipping is in full swing and will continue the August. Northern gardeners, please place orders soon so we can ship before August 15.
NEW introductions
We're delighted to introduce two Unusual Form daylilies: 'Mango Punch' and 'Molly's Favorite'. Bred and grown in the great outdoors, both have proven to be exceptionally vigorous in our USDA hardiness zone 4.
Some of you have been waiting for these to be available. Thanks for your patience!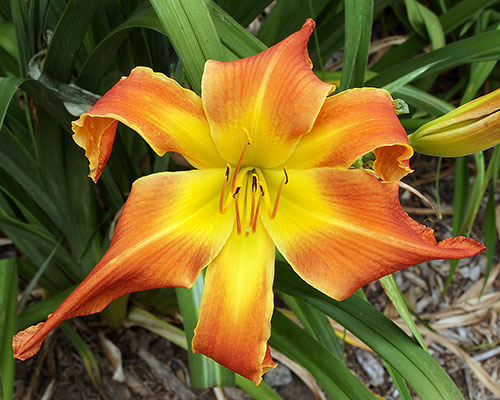 29" height, mid-late season, 7.5" flower, 5-way branching, 27 buds, Crispate-Unusual Form, semi-evergreen, tetraploid. (seedling X seedling) $125/double fan; $75/single fan.
If you like hot colors and lots of bloom, this one's for you!
The clear orange of 'Mango Punch' is a beacon in the garden. Pinched petals and curled sepals place it in the Crispate-Unusual Form category. Large green-to-gold throat gives it a wide-open look. On an established clump, we see blooms shortly after mid-season, but bloom has been 10–14 days early in 2015. Scapes have 5-way branching with about 27 buds per scape, producing a long bloom season—plus it reblooms. A cold-hardy, vigorous grower with deep green foliage, it makes a wonderful clump.
Parents include 'Passion's Promise', 'Kissed Off', and 'Love and Dazzle'. Easy pods and pollen.
---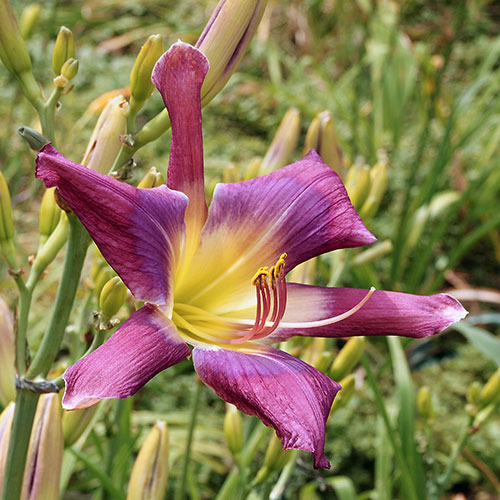 40" height, mid-season, 7" flower, 5-way branching, 24 buds, Crispate-Spatulate Unusual Form with quilled sepals, semi-evergreen, tetraploid. (Swallow Tail Kite X Riddle Me This) $125/double fan; $75/single fan.
A little quirky!
Clear purple with a large blue-purple, pencil-outlined eye. Pinched and twisted petals plus quilled sepals add fun to the look. The large green-to yellow-to-near-white throat sets off the flower in a garden setting. The touches of white seem to clarify the purple tones. Sturdy well-branched scapes stand tall, even when loaded with large buds.
The cross (Swallow Tail Kite X Riddle Me This) produced interesting offspring, but this was the most outstanding of all the seedlings for clear color and excellent plant habit. Easy pods and pollen.
---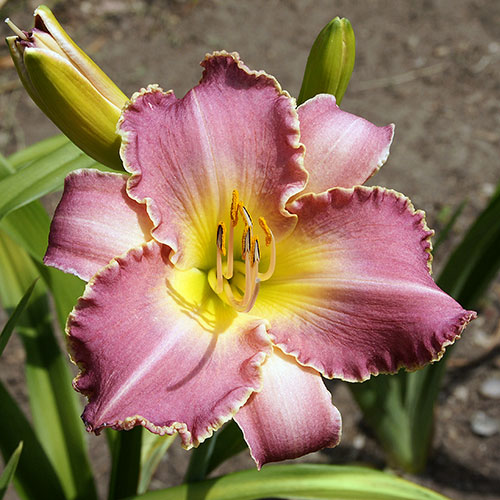 25" height, mid-season, 6" flower, 4-way branching, 20 buds, semi-evergreen, tetraploid, (seedling X Harlow). $100/double fan.
This soft lavender rose-white blend has white ruffled edges on wide petals with soft white midribs, an orchid halo, recurved sepals, and a green-to-yellow throat.
Smaller in stature, we almost lost it among the towering (Swallow Tail Kite X Riddle Me This) seedlings! It really belongs near the front of the garden to appreciate its delicate look. 'Laura Eva' increases more slowly than some, but—despite its dainty appearance—it opens well and is reliably cold-hardy.
'Laura Eva' was named in honor of Kathy's mother. Before she passed away, Kathy's mom asked to have a lavender daylily named for her. We think she would love this soft, feminine flower. Most divisions will be going to siblings this year with a limited supply available for sale.
---
2014 Introductions
All 2014 introductions are available. Click on each photo for larger image and details.
Previous Introductions
All previous introductions, including 'Ambrosia Rows' and 'Love and Dazzle', are available this season.
Use the jump menu below to see a list of our previous introductions. Use the back button or click on the Home button to return to this page.
---
AHS Awards
Our daylily introductions have received these awards from the American Hemerocallis Society:
2012 AHS Honorable Mention: 'Ambrosia Rows', 'Love and Dazzle', and 'Minnesota Sunshine'
2013 Georgia Doubles Appreciation Award (for best double in an AHS National Convention garden): 'Ambrosia Rows'
2013 AHS Popularity Poll: 'Love and Dazzle' tied for first place and is now in the "AHS Region 1 Popularity Poll Hall of Fame"!
2013 AHS Junior Citation: 'Cinnamon Crunch' (Seedling #D3050)
Thank you to our daylily friends and customers for your wonderful support!
---
To place your order
Use our on-line Price List to make your selections. We are a small nursery and quantities are limited, so please confirm your order via email email LoonSongGardens.
To place your order, print the Order Form (PDF) and complete it, then enclose payment by check or money order (payable to Loon Song Gardens, LLC), and mail to:
Loon Song Gardens

10910 109th Ave N

Champlin MN 55316
We ship at least a double-fan size plant unless otherwise noted in our listing;, we include a bonus of extra fans or a gift plant for orders of at least $35; and we guarantee that our plants are true to name.
If we ship you a double fan, please do not divide the first year, as some daylilies perform better over their first winter as a double fan. Our daylilies are quite vigorous here, so if you choose to order a single fan, we expect it to perform just fine for its first winter. Please contact us if you have questions.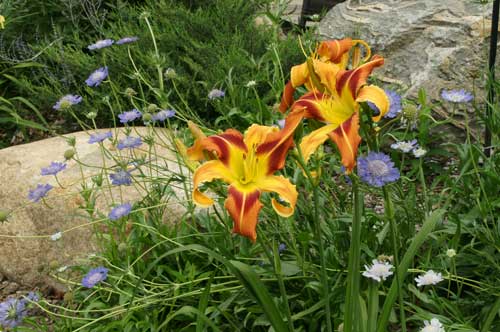 Above: 'Love and Dazzle', a Loon Song Gardens daylily introduction, winner of an AHS Honorable Mention (2012) and AHS Region 1 Popularity Poll winner.
Are you new to the world of daylilies?
Learn more about daylilies! Use the links in the left sidebar to find answers to your questions, or contact us and we will try to help.