We ship about May 10 through August 31
We ship about May 10 through August 31, depending on weather and soil conditions. Please let us know your desired shipping date, alternate dates, and other special instructions. We will try to ship as close to your requested date as possible.
Near the end of the season, allow four to six weeks before the first hard frost in your area.
We recommend planting by mid-August for areas colder than zone 4; by the end of August for most zone 4 areas; and possibly until mid-September for zone 5 and warmer areas, depending on weather.
U.S. shipments only.
Please note that some Western states restrict shipments from Minnesota and require a phytosanitary certificate for an extra fee.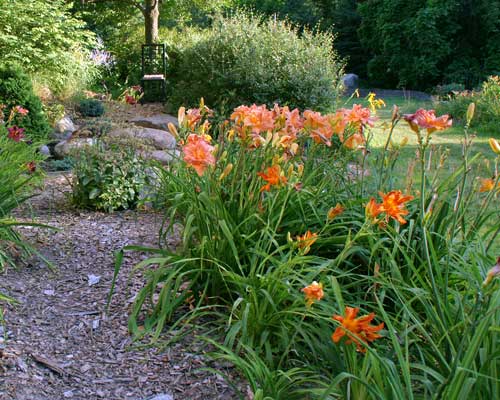 Double daylilies are a favorite at Loon Song Gardens.
Shipping rates
We ship via U.S. Postal Service (USPS) Priority Mail with Tracking for $12.00 per order.
If you prefer another mode of shipping (e.g., UPS or FedEx), faster guaranteed service (such as 2-day or overnight), or if you wish to insure the shipment, please contact us to make arrangements. We will need a street address for alternate shipping modes.
When your daylilies arrive
Your daylilies will arrive bare root, with roots trimmed and foliage cut back, ready for planting.
Upon receipt of your daylily shipment, please unpack carefully and soak the roots for several hours or overnight in cool water out of direct sun (use either plain water or a weak solution of balanced liquid plant food). Follow our planting instructions for best results.
Never keep damp bare-root daylilies in plastic bags. They may quickly rot and die, especially in hot weather.
We include a quality plant label
Please note that we ship your daylily with a UV-resistant Brother Industrial Strength Tape label. You may use this label as a temporary or semi-permanent garden label.You can apply the label to a garden marker face plate or—as daylily growers often do—bury the label under your daylily to keep the cultivar name and plant together.
Cultivar spelling and description are based on registration information as shown in the AHS Check List of Hemerocallis Cultivar Registrations.
Policies
We send double-fan size plants or better unless otherwise noted in our listings. Please contact us within 30 days if there is a problem with your order.
We guarantee plants to be true to name. If we ship an incorrectly labeled plant, please contact us for a replacement or an adjustment as soon as the error becomes evident.
No minimum order is required. We do not ship outside the United States at this time.
For orders over $35.00, we include your choice of bonus: A. Extra daylilies (20 percent of order—provide suggestions); or B. Extra fans if available; or C. Free shipping.
Gift certificates are available in any amount.
Payment
Please send payment with your order, including shipping (see above). We accept personal checks, Cashier's Checks, and money orders (U.S. funds only) made payable to Loon Song Gardens, LLC.
Minnesota residents should add appropriate sales tax or include a Tax Exemption Form ST3 available on line at http://taxes.state.mn.us/sales/Documents/st3.pdf.

We do not accept credit cards at this time.
Questions?
If you have questions, problems, or concerns, please get in touch with us so we may resolve any issues. We appreciate your business and hope you enjoy your new daylilies!